Transmission Fluid Replacement Service near Hattiesburg MS

What's a Transmission? 
If you're piloting a top-tier vehicle like a BMW, you want to ensure that your ride's performance is optimized. Whether you're taking yours out on a racetrack or are simply enjoying a pleasant drive on the weekend, remembering to have your transmission fluid replaced regularly can keep you safer and help your BMW to provide the luxurious feel and responsive handling that you're looking for. If it's been a while since you've had this service performed, then our team at BMW of Meridian is ready to provide you with the maintenance that you need!
Your Transmission
Transmission fluid replacements are vital to your transmission's health. This vital component is responsible for converting the raw power from your engine into your vehicle's movement. Whenever you accelerate hard, your transmission switches to the appropriate gear to maximize your BMW's power and acceleration. And if you choose to use your paddle shifters, you're taking manual control of your transmission for a hands-on driving experience. Without fresh fluid, your transmission will slowly, but surely, fail to perform as you expect it to. So, if you neglect this service long enough, you should be ready to experience a number of negative symptoms while behind your vehicle's wheel.
Signs to Come In for Service
At BMW of Meridian, we'd encourage you to be proactive about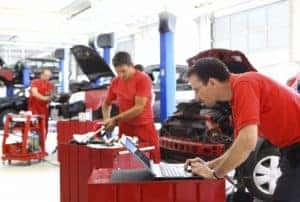 service and join us before you start to notice anything wrong with your set of wheels. Therefore, we'd suggest that you come in for a transmission fluid replacement every 30,000 to 60,000 miles. If you want a more precise estimate, your owner's manual will have a recommendation for your model. If you wait long enough, you'll notice delays and surges in your movement whenever your vehicle changes gears, or you might even see gears sticking or failing to change. If you've invested in a sports car, make sure it performs like one by scheduling an appointment with us!
Service
When you join us at BMW of Meridian, you'll be greeted by our expert team members, who will review the service you've schedule to ensure that we're performing the exact maintenance you've requested. While you relax in our dealership or complete errands with the help of one of our loaner vehicles, we'll get to work replacing your transmission fluid. While we have your BMW in our hands, we'll perform an inspection of other important areas to make sure that everything is running as it should be. If we notice anything that doesn't look right, we'll keep you in the loop!
Keep your vehicle just as powerful as it should be by coming to BMW of Meridian for transmission fluid replacement service near Hattiesburg, MS. Don't forget to look through our Service Specials for discounts!